Making Memories Last Forever… 
Granite Memorials Available Today!
Made & Designed
in Alberta
Manufacturer
Direct Purchasing
Top Quality Granite Headstones
Welcome, we're glad you found us!
 We are Homestead Memorials.
Home·stead | \ ˈhōm-ˌsted
: to acquire or settle
: the home and adjoining land occupied by a family
When we think of a homestead, we envision peace, quietness, nature, calmness, and being settled at home with family.
Please look around, we can't wait to hear from you!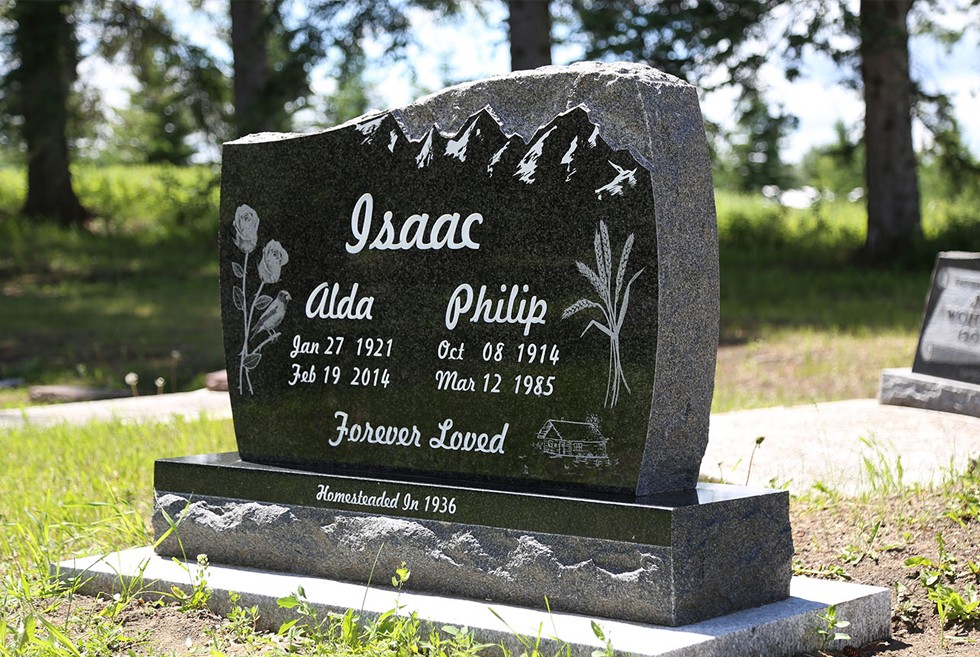 Mike
May 4, 2019
Though this was a difficult time, we have nothing but praises for the service we received from the moment we walked in the office to the day the installation was completed. Rick went above and beyond to meet our needs in a professional and compassionate manner. We are extremely pleased with the final product and would not hesitate to recommend Homestead Memorials to anyone.
Pearl
Sep 19, 2018
Thank you! Rick went over and beyond to assist me with the monument. Thank you so much.
Jay Colburn
May 10, 2019
I would recommend Homestead Memorials. Very easy to work with.
Kathleen Hunt (Kleven)
Dec 9, 2019
My elderly mother and myself worked with Homestead to create a unique memorial for both Mom and Dad. Rick and his team gave great feedback to our idea and the end result was exactly as we pictured it. The size of the monument was proportionate to our design,script turned out very nice and the outcome was an excellent display of workmanship and detail. I would highly recommend them.
Rollie Wilkins
Sep 18, 2019
I'm very happy with the headstone. Rick was very helpfull with design and Wes did a great job installing. I will definitely recommend them.
James Miller
May 14, 2019
I was very pleased with the kindness and helpfulness with which Homestead Memorials staff helped us to select the appropriate memorial stone for our son and worked with us to produce the design that we wanted. They were good to deal with and they delivered a good product at a reasonable price. Thank you.
Gilbert Enns
September, 2022
Rick was the best ever to deal with. He dealt in the most professional manner and was very compliant and considerate of our wants during the time of our Mother's passing. I would strongly recommend his business.
Joan Morrison
February, 2021
We were extremely pleased with our experience with Rick Wiebe & Suncrest Memorials. He was kind both knowledgeable & compassionate in helping us choose a monument for our son & granddaughter. The monument is beautiful, and came at an affordable price. We have already recommended Rick Wiebe & Suncrest Memorials to another family member, and would not hesitate to do so again in the future.
Gordon Perry
February, 2021
When our adult son passed away having no life insurance and little cash in the bank, we were faced with paying funeral expenses. We also wanted to place a suitable monument in his honor, and to mark the place for family and friends to visit. We are very pleased with the kind, friendly and economical service received from Rick Weibe and Suncrest Memorials. He showed us several options that would meet our needs and the finished unit is very beautiful. We highly recommend Suncrest Memorials to everyone.
Lynn Naegeli
August, 2022
I can't begin to describe how wonderful Rick Weibe and Homestead Memorials were in fulfilling my request! A very caring and professional experience. Highly recommend Homestead Memorials!👍👍👍 …
Julia Knelsen
February, 2020
We had the best experience with Rick at Suncrest Memorials in Linden! Good communication, catered to our wishes and above all, affordable pricing! We are very happy with the monument tht was made to honour our beautiful little daughters life💖 …
Wendy Holukoff
July, 2022
Rick was more than accommodating of our needs and we are very pleased with the end result! Thank you Rick and team.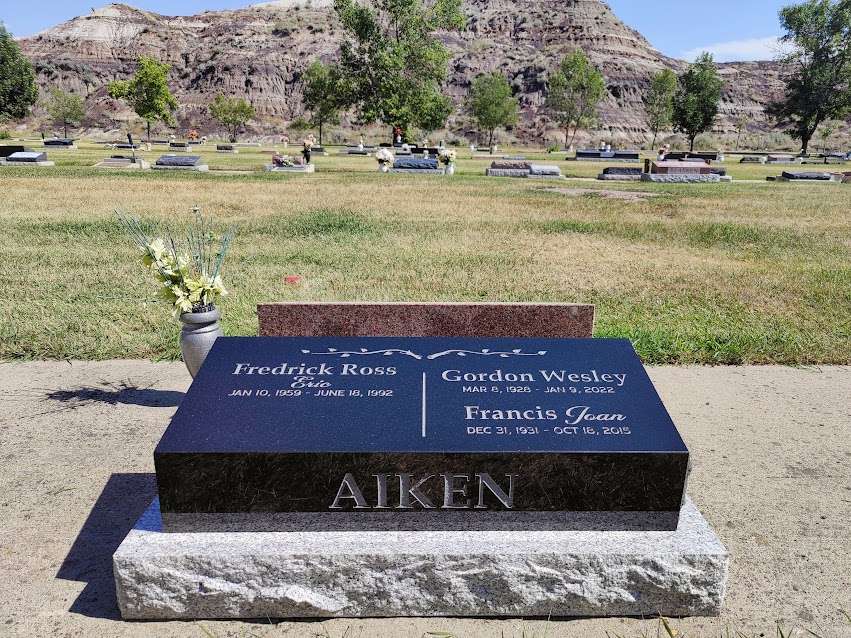 Serving the Communities of
Central Alberta!
Homestead Memorials is family-owned and operated.  Although we provide all types of custom and traditional monuments, we focus on simplicity and elegance.  We promise to make the task of choosing a memorial for your loved one easier for you. 
Choosing a memorial can be a daunting process, especially because it is something most people only do a few times in their lifetime. Our products come with a lifetime guarantee!  If something is wrong or if you are unsatisfied in any way, we will do our best to make things right.
Where does your granite come from?
That depends on what colour we are talking about.  Our granite is all 100% natural with no added colours or fillers.  We usually buy directly from the quarries to get you the best price possible.  A lot of our granite comes from the Canadian Shield but some of our favorite colours come from Norway, South Africa, and India.  
Does it cost more if there are more letters?
All of our prices include unlimited carving on one surface.  Carving on addictional surfaces is charged by square footage of the total area of that surface.  Add-ons like portraits and etchings are an additional cost.
What is your delivery area?
We can delivery anywhere in Western Canada but our typical area is Central Alberta.  We also can ship stones with installation supplies anywhere in Canada, and give you instructions on how to install it yourself.
Is there warranty?
Our products come with a lifetime guarantee!  If something is wrong or if you are unsatisfied in any way, we will do our best to make things right.  We are extremely particular about the quality of our granite, which is why we can guarantee it for LIFE to never rust or fade.
How long does the process take?
We have a large selection of inventory, so if we have the stone you want in stock, it takes 2-3 weeks for manufacturing once the design is approved.  We generally deliver 3 times per year.  June, August, and October.
What payments do you accept?
We accept, e-transfer (preferred), cheque, Mastercard, and VISA.  We do charge a 2.9% credit card fee for Mastercard and VISA transactions.
Monday to Saturday
Please contact us
for an appointment